Cultivating medical expertise with hands-on clinical training that few universities can match
Features of the School of Dental Medicine
We are the only dental school in Yokohama, the cradle of modern dentistry.
The international city of Yokohama is where modern dentistry in Japan started as a result of an American practitioner opening the first dental office here just prior to the Meiji Restoration. In 1970, we established the first and only dental school in Yokohama, and since then, we have produced many of Japan's most highly qualified dentists.
We develop responsible dental professionals who practice according to Zen Buddhist principles.
Our students take courses in Religion and Ethics in order to become highly responsible and ethical medical professionals. Our aim is to foster dentists who value each patient as an individual and who can live up to the trust patients put in them.
We cultivate medical expertise with hands-on clinical training that few universities can match.
Tsurumi University Dental Hospital is proud to have provided over 45 years of dental service to the community while treating 800-1,000 patients per day. Our dental students have unrivaled access to actual patients in their clinical training so they can become highly experienced professionals by the time they graduate.
Thanks to on-going international exchange, we maintain our level of expertise at international standards.
Our university benefits from partnerships with renowned dental universities in China, South Korea, the United Kingdom, Australia, and other countries. Students and faculty exchange visits for research purposes and to ensure that our dental treatment keeps pace with international standards.
Hands-on Clinical Training
Experiencing actual patient care at our affiliated dental hospital
Hands-on clinical training starts from the 5th year at our affiliated dental hospital. The training begins with a special "Hospital Trainee Entrance Ceremony" where the Dean of the School of Dental Medicine as well as the Hospital Director address the new clinical trainees and impress upon them the importance of proper care for their patients and the great responsibility they hold as dental practitioners.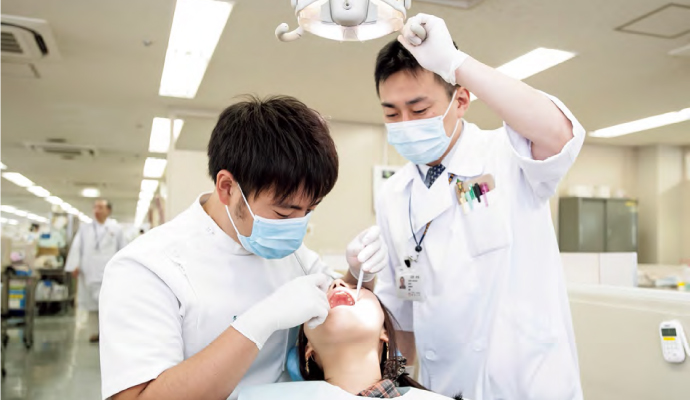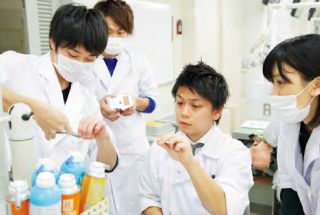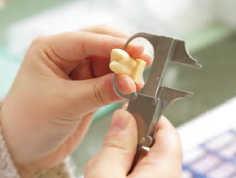 A strong sense of ethics and the ability to understand treatment from the patient's point of view are essential for the professional medical practitioner. At Tsurumi University, we emphasize these values in our curriculum and in our hands-on clinical training.
Stage1 :

Clinical Lectures

Before hands-on clinical training can begin, students attend clinical training preparation lectures taught by the supervisors from each department. In these courses, students learn the proper attitude and manner of a dental professional, review medical ethics, and learn how to have proper contact with patients. Students then work with dental simulator training manikins, practice making treatment plans, and make hospital visits to fully prepare themselves for actual patient contact.

Stage2 :

Treating Patients

First, students perform oral examinations and check the patient's teeth and oral cavity. Next, students rotate through the various departments and take personal charge of 5 or 6 patients. In cases where extensive treatment is necessary, students may be responsible for patients for as long as a year. Students are taught to recognize and respond properly to the feelings and concerns of patients during treatment. They also learn to make dentures and crowns for their patients. Under the close supervision of their teacher in charge, students integrate the theoretical training they've had with their practical training to hone their treatment techniques.

Stage3 :

Direct Observation

Oral surgery and other forms of treatment with a high degree of difficulty are learned through direct observation of treatment performed by our professional staff. As an example, students may observe as an oral surgeon removes a tumor from the jaw in order to understand the steps involved in this complex procedure. In the radiology department, students learn the skills necessary for x-ray diagnostics.
Six-year program of study at the School of Dental Medicine
Before enrollment
(remedial courses)

Students take preparatory courses in math, science and English prior to enrollment.These remedial courses raise proficiency and ensure student success in their first year liberal arts coursework.

Year 1

To foster medical professionalism, students take ethics and liberal arts courses. Basic knowledge courses relevant to the medical field are taken to set a solid foundation.

Year 2

Students take basic medical courses in the first semester. Practical medical training begins in the second semester.

Year 3

Students continue to refine their understanding of medicine and begin clinical training.

Year 4

Students prepare for clinical training in dentistry with basic dentistry courses.

Year 5

Students begin clinical training, the next step in becoming a professional dentist.

Year 6

Students continue with clinical training. Dental Program Synthesis occupies much of the final year.

Japan National
Exam for Dentists

After graduating with the degree Doctor of Dental Medicine, students must take the National Board Dental Examination to become a dentist. The Tsurumi University curriculum includes effective test preparation along with instruction in the most current dental technology, ensuring a high passing rate for the exam.

Dental Trainees

Every year, over 500 licensed graduates from dental universities all over Japan apply to be Dentist Trainees at the Tsurumi University Dental Hospital.
---