Numerous clinical cases and renowned research achievements are the pride of the hospital, a magnet for dental treatment in the community.
---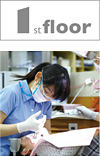 Reception Clinic:First time patients have their initial diagnosis here. If necessary, they receive first aid treatment and are then transferred to the appropriate department for specialized care.
Pediatric Dentistry:A relaxed environment for children is created with pictures on the walls and child-friendly dental chairs. For preventive dental treatment, we apply fluoride paste to the spaces between teeth, as well as employ the latest preventive care techniques.
Internal and Cardiovascular Medicine:Due to the general trend toward an aging society, many patients enter the dental hospital with non-dental medical issues that require treatment. Nowadays, an internal and cardiovascular medicine department is essential in a dental hospital to cope with the variety of physical and mental issues that patients suffer from.
Oral and Maxillofacial Implant Dentistry: An implant is the replacing of a lost tooth by inserting an artificial root into the jaw bone and covering it with an artificial tooth. The techniques of implant dentistry now extend to the whole face for maxillofacial treatment. For example, if a patient has had the eyes, nose, ears, or jaw removed due to cancerous tumor surgery, or if any of these organs are absent for congenital reasons, they can be replaced with implants.
Specialized Clinics for Outpatients:Specialized departments offer therapy for snoring sufferers and for outpatients who need assistance to stop smoking.
---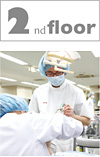 Oral and Maxillofacial Surgery:Tumors, deformities, dysfunctions, inflammations, and other lesions in the oral and maxillofacial regions are diagnosed and surgically treated. Minor surgeries for out-patients may be performed with local anesthesia and pain relief medicine as necessary.
Oral Medicine and Stomatology:Diseases arising from the oral mucous membrane, jaw bone and salivary glands, as well as infectious diseases and malignancies, are treated with nonsurgical intervention that may include highly-advanced medical technology, such as tissue engineering and dendritic cell vaccination.
Dental Anesthesiology:Either general anesthesia or intravenous sedation may be used depending on the type of treatment, or on the physical condition of the patient. We also have specialized anesthesia for disabled patients as well as pain treatment for chronic pain sufferers.
Orthodontics:Orthodontics is the branch of dentistry that corrects teeth and jaws that are positioned improperly. Specialists in our department treat problems of tooth alignment and problems related to the growth and development of the face and jaws using corrective appliances (braces). Services are available for both children and adults.
Diagnostic Imaging & Radiology:Whether checking for dental caries or periodontal disease, or looking for abnormalities in the jaw bone or joint, radiology is a section that supplies essential information to all departments in the hospital as well as to local dental clinics. We are also able to conduct MRI and CT scans to diagnose oral and maxillofacial problems, and we perform interventional radiology on temporamandibular joint lesions.
Ophthalmology:Doctors here treat general eye diseases and are specialists in allergies and dry eye. They also perform vitrectomies (surgeries involving the eyeball gel), corneal transplants, and cataract surgery.
Clinical Pathophysiology:We have specialized clinics to handle new areas of dental medicine, such as the treatment of dry mouth, swallowing rehabilitation for dysphagia, treatment of halitosis, Eastern (Oriental) dentistry, and tooth whitening. We also provide consultations for appearance, anti-aging concerns, genetic issues, and others.
Operating Room for Outpatients:This operating room is specifically set up for conducting oral surgery on outpatients.
---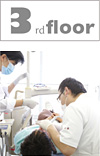 General Dentistry: This department is for conservative dentistry and prosthodontics where a patient may need treatment that extends over several of our specialized departments. The department is divided into General Dentistry 1 and 2, with undergraduates providing treatment in General Dentistry 1, and licensed dental trainees providing treatment in General Dentistry 2, both under the supervision of experienced dentists.
Oral Health & Preventive Dentistry:We do regular dental check-ups, provide brushing guidance, and remove plaque and calculus from teeth. When dental problems or disease are detected, the patient is referred to the appropriate department. Gerodontics: Also known as geriatric dentistry, treatment here is for patients over 75 years of age, or over 65 with systemic diseases, such as heart disease or diabetes. Vital signs can be monitored while treatment is provided. We also offer general treatment, dysphagia rehabilitation, and home visit treatment as needed.
Dentistry for the Disabled:We have barrier-free facilities especially for the disabled that enable us to treat people with severe disabilities who may have lacked treatment options in times past. Caregivers may be present during treatment.
Kids Room:This is a special child care facility where pre-school children, including infants, can be looked after while the parent or guardian is receiving dental treatment. There is no charge to the patients for this child care.
---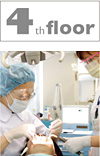 Prosthodontics (crowns, bridges & dentures):This is a specialized department for rehabilitating tooth loss and occlusion by the use of crowns, bridges and dentures. The department also cooperates with other departments for implant rehabilitation. Prosthodontics is often necessary in the treatment of temporomandibular disorders.
Conservative Dentistry:The aim of this department is to keep teeth, jaw bones and gums as healthy, natural and viable as long as possible. Within this department, operative dentistry concerns itself with tooth decay, tooth defects, and caries prevention; endodontics focuses on dental nerves, and periodontics deals with tooth-supporting tissues (gums and bone), including regenerative tissue therapy.
Dental Laboratory Center: Here, our dental technicians make and repair crowns, bridges and dentures. Our aim is to manufacture functional and aesthetically pleasing prosthetic appliances using the latest technology.
---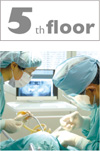 Nurse's Station and Ward:Nurses provide 24-hour service for in-patients who require hospitalization. Dental chairs are provided for pre- and post-operative treatment of inpatients.
Operating Room:Major surgeries, such as removal of tumors, reconstructive surgery with autogenous tissue or artificial materials, orthognathic (jaw and face) surgery, and trauma surgery are performed here under general anesthesia.
Main Operating Room for Outpatients: Surgery is conducted here for implants and for ophthalmology operations done with both local anesthesia and sedatives.
Close
About Tsurumi University
Facilities
Undergraduate Schools
Graduate Schools
Tsurumi Junior College
Life
Inquiry
Sitemap