Tsurumi Junior College Department of Early Childhood Care and Education
Owing to their qualification graduates are employed at educational institutions like kindergarten, at child welfare institutions like nursery schools or other welfare institutions.
The support for job-hunting starts from admission to college. Employment training begins by teaching about dressing and appearance, and from the end of the first year full-scale guidance with trial examinations is implemented. During the education and child care practical training in the second year chances for job exams / interviews are frequent due to the highly appreciated practical training. Therefore, we carry out courses to improve the way of speaking before the practical training. Also the curriculum vitae, which is indispensable for job applications is taught step-by-step in courses and individually in detail.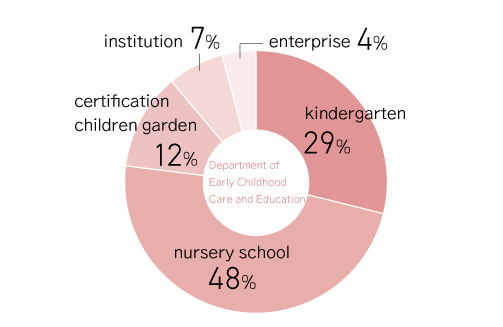 Tsurumi Junior College Department of Dental Hygiene
We keep a record of high success rate in the national Dental Hygienist Exam and send off competent hygienists responding to societies' demand.
Our Department of Dental Hygiene has built a trusting relationship by long experience and the active involvement of our graduates in society. As part of employment enhancement we made the course 'Life and Work' in the third year compulsory to foster social knowledge and manners. By inviting personnel staff of potential employers and former graduates, we support the students to attain a proper image of Dental Hygienist's attitude and to demonstrate their ability to contribute to society's demands. Further, in October, when job-hunting becomes more concrete and serious, teachers and career advisers help with the preparation of resumes and trial job interviews, counseling service and individual interviews; they pay close attention to each single student to achieve employment for everyone. After graduation the national Dental Hygienist Exam is the basis to meet the challenges of the dental world and earn a stable income at a workplace according to wish.