Renowned in Japan for the quality and quantity of its collection, the library is the facility that best symbolizes Tsurumi University.
The Tsurumi University Library is wellknown in Japan for its collection of over 800,000 books, including a large number of rare volumes that can be found only here. Ranked in the top 10 of Japanese university libraries, researchers from all over Japan are attracted to its unique collection of resources. The library is staffed by specialists familiar with the library's rare collections who are on hand to assist with advanced research. A number of students cite the library facilities as their main reason for pursuing advanced academic studies at Tsurumi University. Students and teachers are frequent visitors to the library thanks to the precious books and documents that serve as learning materials, and to the multimedia facilities that enhance the university's reputation as a leader in information science. Precious and rare items are periodically on exhibit, and Open Library events are well-known in the community and among high school students. The library is also a place of relaxation for students who come to enjoy the large collection of DVDs and music CDs in their free time.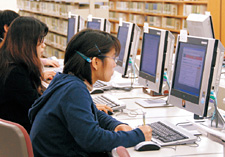 Computers for searching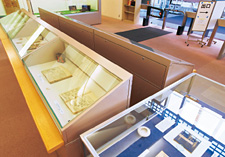 Exhibition area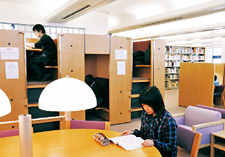 Reading areas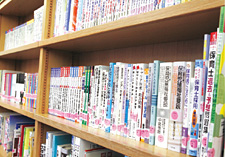 Reading areas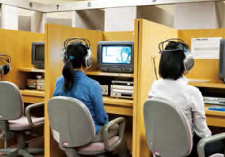 Audio-visual booths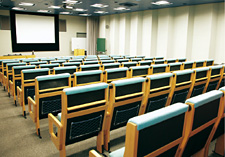 Audio-visual presentation hall
The pride of Tsurumi University's library ─ rare books and documents
The collection of rare and precious books and documents, a virtual goldmine, is located on the 3rd floor. There are about 15,000 volumes from various eras, originating in Japan and other countries of Asia as well as from the West. The rare materials stored here are available for actual use in classes, and students are permitted to handle them for research purposes. It is a privilege of Tsurumi University students to be able to experience original items of historic and cultural importance.